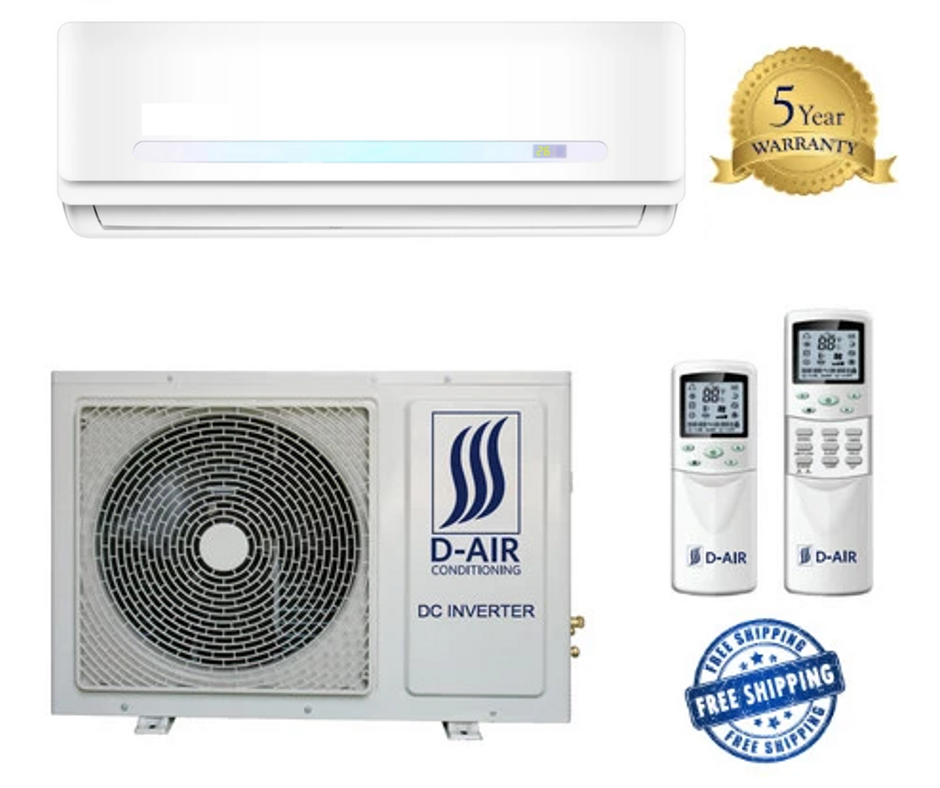 D Air 9000 BTU 20 SEER Ductless Mini Split Heating & Air Conditioner
---
GENERAL INFORMATION
Ductless mini split air conditioner 9,000 btu cooling and heating.
ENERGY EFFICIENCY 
Since mini splits have little to no ducting, they forego those energy losses typically associated central forced-air systems. Duct losses can easily account for more than 30% of energy consumption, especially if the ducts are not sealed tight or in an unconditioned space such as an attic or crawlspace. With ratings as high as 20-SEER (Seasonal Energy Efficiency Ratio), D AIR systems are among the highest rated efficiency equipment available anywhere!

WIRELESS REMOTE CONTROLLER

Comfort control is at your fingertips with the standard wireless remote controller.

WASHABLE PANEL FILTER
The removable and washable panel filter is an effective air cleanser, removing mold & dust from the environment. Cleaning of the indoor unit itself is simple due to the design and shape of the casing.
INVERTER TECHNOLOGY 
Through  advanced technology, Inverter air conditioners are more economical to operate and quieter to run than conventional units. They can handle greater extremes in temperature, are smoother and more stable in operation, and reach the desired temperature more quickly than conventional air conditioners.
SMART SYSTEM:  AUTO MODE
When the system is initially turned on, the fan speed is HIGH to reach the set temperature as quickly as possible.  The fan speed will automatically adjust downward as the room begins to reach the set temperature.
HUMIDITY CONTROL



This system features Dry Mode, which helps to control humidity levels, even when cooling may not be needed.

OTHER STANDARD FEATURES INCLUDE:
| | |
| --- | --- |
| Wireless Remote Control | Sleep Timer |
| 24 Hour Timer    | Dry Mode |
| Auto Louver: Up/ Down  | Minimum Heat |
| Auto Mode | Quiet Mode |
| Auto Restart/Reset | Auto Changeover |
| Low Ambient | Cold Prevention |
| Double Muting Technology | 360 Degree Blowing |
WARRANTY:
We back all of our products with a 5 year manufacturer warranty. 
MONEY BACK GUARANTEE:
We offer a 100% money back guarantee if you are not satisfied with your purchase. If either the product is damage or you are unhappy with the product, we will happily refund you for the full amount. 
---
Share this Product
---
More from this collection