The Daikin ATMOSPHERA single zone system is Daikin's first ductless system to use R-32 refrigerant.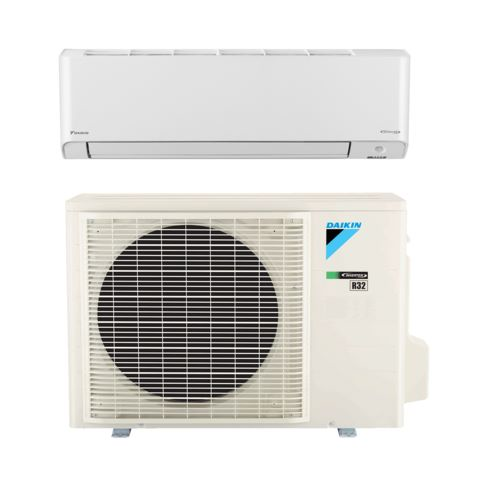 As the only manufacturer of both HVACR equipment and refrigerants, Daikin's dedication to next-generation solutions encompasses design, technology, comfort, and performance while also taking environmental impact into consideration with R-32, a refrigerant with lower Global Warming Potential than R-410A. Daikin ATMOSPHERA is ideal for spot cooling and heating needs in residential and commercial spaces that require heating and cooling, even in extreme ambient temperatures. In addition, Daikin ATMOSPHERA is an effective source of heat for replacement of old, inefficient furnaces or boiler systems.
New CLEAN function dries the interior of the indoor unit to reduce the amount of condensation present.
New hybrid cooling dehumidifies efficiently even in low cooling loads
and maintains dehumidification effect after the target temperature is reached.
Built-in Wifi to control your unit via the internet with the Daikin Comfort Control App without the need of an additional adaptor.
Pre-charged to serve piping lengths up to 49 ft (15m) a 50% increase in pre-charge coverage compared to previous models.
Hot start – When the heating operation starts or when the unit changes from cooling to heating there is no cold draft.
Comfort Mode adjusts the direction and airflow rate so that the air from the unit does not blow directly on the occupants of the room in cooling. When heating
The flap turns vertically downwards to drive warm air to the bottom of the room.
Anti-Corrosion treatment on Heat Exchanger
1) Energy Efficiency
Up to 27.4 SEER / 13.8 HSPF / 16.3 EER for ultra-efficient cooling and heating operation and reduced operating costs compared to conventional lower-efficiency systems.
2) Operating Temperature
Cooling Operation Range: 50° - 144.8°F (10° - 46°C)
Heating Operation Range: -13° - 64.4°F (-25° - 18°C)
3) Noise Level
Indoor Sound Pressure as low as 25 dB(A)
Outdoor Sound Pressure as Low as 46 dB(A)
4) Air Filtration
Titanium Apatite Photocatalytic Air Purifying Filter
5) Anti Corrosion Coating
This system includes a Blue Fin Protection and Anti-Corrosion Treatment on Heat Exchanger. This means that the system is suitable for ocean climates and salty air.
6) Warranty
12 Year manufacturer warranty
7) Controls
This system comes standard with a remote control. There is an option to add on the Daikin Comfort App – Easily control your system from anywhere in the world or the comfort of your living room.
8) R-32 Refrigerant: Proven. Easy. Efficient. Available. 
R-32 is the A2L refrigerant that's widely used around the world today. With over 160 million R-32 units made by over 40 manufacturers and installed in more than 90 countries, R-32 is the easy choice and the proven global standard.
In addition, R-32 is the only pure, single-component refrigerant slated to replace the high GWP refrigerant, R-410A. Unlike blended refrigerants, which can change composition, R-32 is easy to top off or clean and reuse on-site. It's also easy to reclaim and reuse off-site with a simple cleaning process.
Conclusion
If you are looking for a reliable ductless mini split, made by the #1 air conditioning manufacturer in the world, and one that is backed with a 12 year warranty, this is a great option to consider. With the optional wifi adapter, you can control the heating and cooling comfort of your system from anywhere in the world. This is simply one of the most elegant and easy to use ductless mini split products available on the market.