At D Air Conditioning, we install thousands of the ductless mini split products for our customers in California. We have worked with and continue to work with all of the top brands on the market. In this blog post, we will rank the top 10 ductless mini brands in the United States.
The criteria for this ranking are: 1) quality of products, 2) features and range of products, 3) customer feedback, 4) durability and reliability, 5) quality of distributor network, 6) quality of installer network.
We are looking at these brands not only on the quality of their products, but at the holistic lifecycle. This includes customer perception / feedback, the quality of the distributor network, and the quality of the installer network. These factors are subjective by nature and are based on our own personal experience in California. The ranking may vary depending upon your local market.


1. Mitsubishi
The undisputed king of the US ductless mini split market is Mitsubishi. They have great products, amazing advertising (most customers know about Mitsubishi), and a great distributor network. Their distribution network significantly improved when they merged their operations with Trane and American Standard. Mitsubishi Diamond installers are considered amongst the best in the market. 


2. Daikin
If I were to ask you which company is the #1 air conditioning company in the world, few people would know that it is Daikin. Daikin is the powerhouse when it comes to ductless mini split technology because they literally invented many of the most important parts that make up the ductless units we use today.
Unlike other brands, Daikin prefers to be quiet with their advertising. They do little to no advertising and let the quality of their products speak for themselves. Unlike Mitsubishi, Daikin has a more narrow and simplified product line up, they do not have as many variations as Mitsubishi. What we like about Daikin is that their high quality can be seen on all of their line up. They have blue fin coating and an amazing titanium filter on even their entry level products. For Daikin, even the entry level products get the same level of attention and features as their highest cost products.


3. Fujitsu
Fujitsu is a solid 3rd place contender. They have a full line up of all the mini split products you would want. They have a very good distributor network. Unlike Mitsubishi and Daikin, which are more restrictive on their installer network; Fujitsu allows most contractors access to their products. As a result, the average Fujitsu contractor does not need to go through the same rigor and have the same pedigree as a Mitsubishi or Daikin Dealer. 


4. LG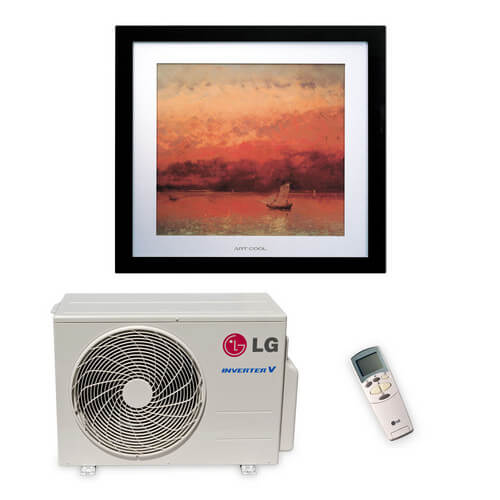 The number 4 slot goes to the Korean company LG. If you have ever shopped for a refrigerator or home appliances, you will see LG everywhere. LG makes very good and competitive ductless mini split. They are the only company that sells the art frame mini split, a ductless unit that disguises itself as a picture frame. LG makes this list because they have a strong residential as well as commercial VRF distributor network. Working with LG reps has been a breeze.
5. Samsung
Samsung and LG are neck and neck in the mini split race. Samsung has many innovative products such as the one way ceiling cassette and the Windfree ductless options. The only reason why Samsung isn't higher on this list is that their distributor network is strong on the residential side but weak on the commercial side. LG's commercial distributors are ahead of Samsung.
6. Panasonic
Panasonic makes one of the best quality products on the market. Quality-wise, Panasonic is on par with Mitsubishi and Daikin. All our Panasonic customers absolutely love their products. And although Panasonic products are absolutely amazing, it is very difficult to get a hold of the product itself. As a late entrant to the US market, Panasonic arrived when many of the established distributor networks were already gobbled up with their competitors. Panasonic has limited residential and commercial distributor networks which makes getting their products and getting parts more difficult. 
Quality-wise it is top notch. Logistically and distribution-wise, it is among the worst. If you are lucky enough to get your hands on a Panasonic product, we suggest you take it. We have never had any customers disappointed with Panasonic.


7. Toshiba Carrier
Toshiba Carrier products are solid. Sometimes you will see the units labeled as Toshiba, sometimes it is labeled with only Carrier, and sometimes you see the co-brand. Why and how they make this decision is a complete mystery to everyone, including myself. Although the products are solid, the Toshiba Carrier units are sold at the top end of the market in terms of pricing. Similar Daikin, Mitsubishi, and Fujitsu products are sold at much lower prices than a Toshiba Carrier system.
One of the reasons for this luxury level pricing is that Carrier literally invented the air conditioning system in 1905. They have been the market level and have historically always charged the highest prices for their products. This historic pricing has carried over to their ductless mini split line. Their products, while very good, are also very expensive.


8. Friedrich
Friedrich is a brand that most consumers have never heard about. But you use a Friedrich system every time you go on vacation. That is right, when you stay at a Hilton or Marriott Hotel, you most likely are using a PTAC HVAC system in your room. One of the top names in PTACs is Friedrich. One of the top names in window AC is also Friedrich.
Although Friedrich has been around for more than 100 years, they are still the "little guy" when it comes to HVAC. Their ductless mini split products are focused mainly on the residential side and they have a much more limited offering for commercial VRF. For residential HVAC, Friedrich is a solid option. They have solid products at reasonable prices. The right combination of features and pricing for the average customer.


9. Lennox
Lennox is one of the most recognized and well regarded name in central heating and air conditioning. For years, Lennox has been investing in ductless mini split and VRF. Although Lennox products are strong in features and high quality, they suffer the same Achilles heel as Toshiba Carrier - their products are priced much higher than comparable Japanese brands. Within the central air market where they are known as the innovators with the highest efficiency and highest featured products, Lennox is able to command luxury Rolls Royce level pricing.
For their ductless mini split products, Lennox has a lot more competition and their offers aren't as competitive on feature and pricing. Although they have "good" products, they are not on the same level as Mitsubishi, Daikin, or Panasonic. So overall value for the money is not quite there for Lennox.


10. D Air
A few years ago, we partnered with a manufacturing powerhouse to introduce the D-Air mini split. Why did we do this? We wanted to have an affordable line of mini split products that just work, no frills, no fancy bells and whistles. Although the top name brands are very much worth the investment, not all customers can afford such a high upfront cost. The D-Air was introduced as a good overall unit that is affordable for most customers.


What about Mr Cool, Senville, Pioneer, Mirage, etc?
If you search for ductless mini split brands on the internet you will be quickly overwhelmed. There are literally hundreds of white-label and private label brands on the market. The quality of these brands are hit or miss, the customer service is hit or miss, and the installer is also hit or miss.
We believe that the quality of your system is 50% the equipment and 50% the installer. If you are ordering a unit online, be sure to secure a good installer first.
Many of the top tier HVAC companies refuse to work with products they do not purchase themselves. This is due to two reasons: 1) quality assurance - if you received the unit from a distributor you know for sure that it is the real deal. There is an epidemic of fake and counterfeit products and ductless mini splits are not immune to this. 2) warranty and availability of parts - most professional HVAC companies need to properly value their time.
There are high costs associated with being in business such as licensing, insurance, overhead, etc. When working with a brand, we want to be able to quickly and reliably get warranty parts. The longer the wait time and the more unreliable to warranty parts are, the more unpaid hours we need to spend. In some cases the extra work is not worth the savings.
Honorable mentions: Bosch
One of the companies that caught our eye is Bosch. In the US, they are an up and coming brand. But they have several amazing offerings such as their heat pump systems and mini splits. This is definitely a brand to watch out for.