At D-Air Conditioning Co. we have installed thousands of ductless mini splits for our happy customers in California. After installing so many units and having worked with all the top brands on the market, we have selected the top 3 high wall multizone ductless mini split systems. 
Our selection criteria are based on several factors including: 1) reliability, 2) features, 3) aesthetics, and 4) customer feedback.
#1 Mitsubishi MSZ-FS
It is no surprise that the Mitsubishi MSZ-FS takes the top spot on our list. This stylish, reliable mini split packs a big punch in terms of features. The system is super efficient with up to 30 SEER of performance. It has the best in class i-see sensor which can detect your location in the room and deliver targeted heating and cooling. It has an amazing air filtration system using a nano platinum filter and an anti-allergy enzyme filter. Overall this is the best performing system in terms of specs and our customers love Mitsubishi. 
This system is a luxury product. The Mitsubishi MSZ-FS is the Rolls Royce in terms of performance and price. If you are planning on using your system for the long term, this can be a wise investment. If you are looking to rent out your place, there are other more affordable options with fewer bells and whistles.
#2 Daikin Emura
The Daikin Emura is a sleek stylish design which is considered one of the best looking high wall mini splits on the market. The innovative system opens by lifting the front panel up is unique in its design. Similar to the Mitsubishi system, this unit has an intelligent eye sensor which detects heat and cool signatures in your room and can deliver precise comfort wherever you are. The Daikin Emura has an efficiency of 18 SEER and has a Titanium Apatite Photocatalytic Air Purifying Filter. 
Daikin is the #1 manufacturer of air conditioners in the world. In the air conditioning space, they are well regarded for their high performance, great reliability, and long lasting durability. They are considered the Toyota of this market and you really can't go wrong with choosing this product.
#3 Fujitsu Halcyon™ ASU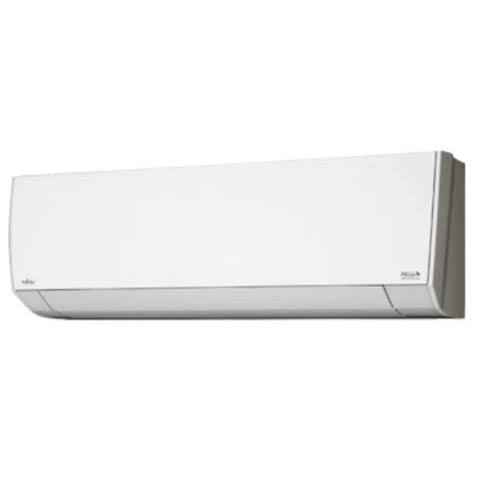 The Fujitsu ASU is a no frills, reliable HVAC system that gets the job done. These systems have fewer bells and whistles than the Mitsubishi MSZ-FS or the Daikin Emura but make up for it in sheer simplicity and reliability. As one of the leading manufacturer of computer components and medical devices, Fujitsu has turned their expertise to developing a multizone system that is both functional and distinct in its looks. The angled sides make it a sleek modern aesthetic.
Being a much simpler design than Mitsubishi or Daikin, you will also find that the Fujitsu ASU is less expensive than the two former heavy weights. If you are looking for a reasonably priced system that just works and you are only looking for a system that heats and cools, this one can be a good option. 
Honorable mention - Daikin CIRRA
One of the most surprising announcements in 2021 came from Daikin. It was a surprise in a good and totally unexpected way. Daikin announced a super simple and super affordable Daikin CIRRA line. This system is much more affordable than the Emura while boasting similar efficiency ratings. 
The one quirk about this system is that it is currently only available as a dual zone system where you can use a combination of 7k, 9k, or 12k indoor heads. As a specially designed system, the condenser is much slimmer and more compact that comparable two zone condensers. 


We believe that the CIRRA has a lot of potential and is a great product. Although it is only available in 2 zones, we hope that in the future Daikin will release a 3 zone solution as well. The two zone system is still exciting because it is suitable for most ADU or tiny home applications, one of the fastest growing market segments for ductless mini splits.
If you are in California and are looking for a reliable mini split installer, contact our team at D-Air Conditioning. We specialize in ductless mini splits and currently offer 12 of the best brands on the market. We have offices in San Jose California and Orange County. Our team of ductless mini split pros are happy to help you through any project.