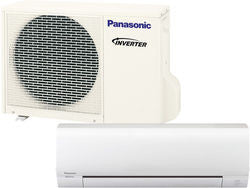 Panasonic 9000 BTU 16 SEER Ductless Mini Split re9skua
---
Submittal
Product Features
Microprocessor Controlled
The microprocessor makes sure that the room is always kept at the proper temperature and humidity levels are correct.
Air Sweep Control
This function controls the louvers up and down to direct the air in a sweeping motion, providing comfort in all parts of the room.
Quiet Operation
With the all new turbo fan and increased air path, the RE12SKUA has reached one of the industry's lowest levels of noise.
Self-Diagnosing
The CS-RE12SKUA is equipped with a self-diagnosing function that makes it easier to diagnose malfunctions and ultimately save on service labor costs.
Low Ambient Operation
The CU-RE12SKUA compressor can handle outdoor temperatures as low as -15 degrees Fahrenheit with consistent high performance. Panasonic uses the best cold-resistant components to prevent weather related issues.
Inverter Technology
Panasonic's inverter controls the power and makes operation extremely efficient by changing the power supply frequency. It is constantly adjusting the compressor rotation speed to provide the best performance at all times.
Power Failure Automatic Restart
After a power failure, your condenser will automatically restart the system in order to prevent any potential damage.
Automatic Heating and Cooling Changeover
After you set the temperature and functions you desire, just relax. If the room temperature gets higher or lower the unit will adjust accordingly and alter the temperature as needed.
Hot Start
The heat pump will warm up before blowing air to prevent any cold drafts.
---
Share this Product
---
More from this collection