If you are consider a ceiling cassette system for your home or commercial space, the Mitsubishi Ceiling Cassette should be on the top of your list. This innovative system was introduced by Mitsubishi in 2018 specifically for the United States market. Here are a few things you should consider when purchasing this system.
1) Size and Fit
The Mitsubishi MLZ EZ fit was designed to fit the most common joists in the United States, 18 inches off center. The unique dimensions of US joists makes most ceiling cassette projects more difficult and uneconomical to install for residential applications. Most manufacturers only produce ceiling cassettes that are 24 inches by 24 inches or 30 inches by 30 inches. Mitsubishi was the first to introduce a unit that fits between 18 inches joists. The width is 16 - 11/16 and the length is 38 - 1/16 inches. 
2) Airflow
This Mitsubishi system is a one way ceiling cassette. This means that air flow comes out of one vent. The other vent is designed for the air return. The air supply vent can be adjusted to control the swing and angle of the air flow. For most living spaces, you should set the swing horizontally so that the system can deliver precise heating and cooling comfort without any direct air flow to the occupants. 
3) Capacity
This system comes in 9k BTU, 12k BTU, and 18k BTU. If you are looking for a system for a larger space, you will need to use the square 4 way ceiling cassette. 
4) Noise Level
These systems are super quiet. They can be as low as 21 dB(A) and can operate at up to 22 SEER. Super quiet, super efficient, and super reliable.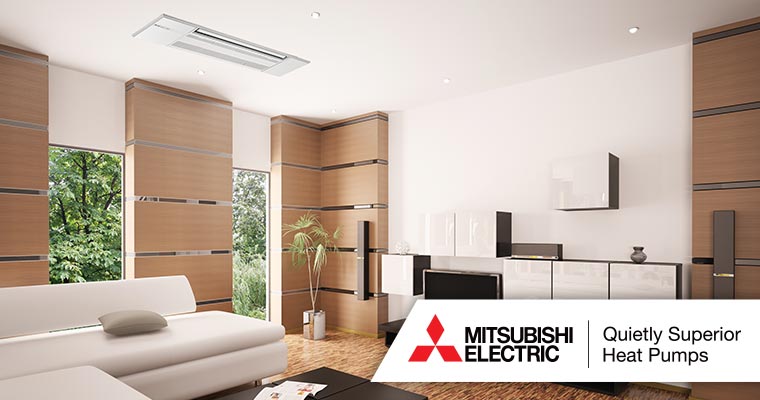 5) Waterpump
These systems come with a built in water pump. You can use the built in water pump to discharge the condensate water. There is no need to add an extra water pump to the side the unit.
6) Multizone options
These systems come in single as well as multizone options. You can use them with a condenser that has up to 5 zones. There are also VRF solutions with more than 5 ports. 
7) Remote Controls and Kumo Cloud
The MLZ EZ Fit comes with a remote control but some of our customers choose to add the Kumo Cloud app. With the Kumo Cloud app, you can control your heating and AC through any smart phone. Kumo Cloud is compatible with Android and IOS.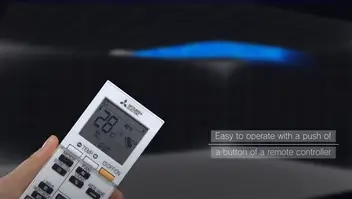 8) Warranty and Reliability
These systems come with a 10 year manufacturer warranty and the reliability that you expect from Mitsubishi. A well installed system can last 10 to 20 years.
9) Mitsubishi / Trane / American Standard
Mitsubishi, Trane, and American Standard merged their operations to manufacture and sell ductless mini split products in the United States. These units can be branded as Mitsubishi EZ Fit, Trane Mitsubishi Konnect One Way Cassette, or American Standard Mitsubishi NAXUKS One Way Cassette. All of these products are exactly the same and are in fact interchangeable. They are all produced in the same factory and the only difference is the logo on the front face.
Depending upon where you are in the country, your local HVAC contractor may introduce you these products as Mitsubishi, Trane, or American Standard. If you are located in California and are interested in the Mitsubishi ceiling cassette systems, please call us or visit one of our showrooms. Our team of Mitsubishi specialists are happy to answer any and all your questions.