If you are new to mini splits you have heard that they are ductless meaning that do not use ductwork like traditional central air conditioner. Now, what the heck the ducted mini split? These are a hybrid HVAC solution which combines the best of both traditional and mini split technology.
With the ducted mini split, you will be using a mini split condenser on the outdoor unit which is variable and have all the benefits of inverter technology. These are the same condensers as regular ductless mini split heatpumps. 
In the indoor unit, you can mount the air handler unit in the ceiling or attic and run ductwork into near by rooms. To explain this concept more concretely we will look at two types of ducted mini split on the market.
1) Mitsubishi Ducted SVZ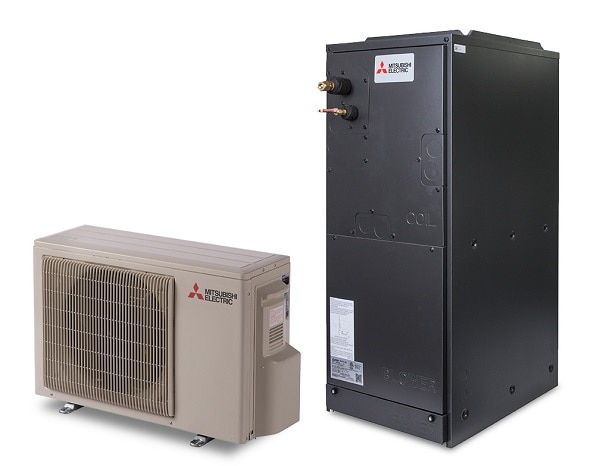 The Mitsubishi SVZ and similar ducted air handlers are designed to be a one for one replacement of traditional central air systems. These units are designed for homes that want to move towards heatpumps and take advantage of the benefits of inverter technology such as higher efficiency, variable speed operation, longer life time, and lower noise levels.
2) Daikin FDMQ
The slim ducted mini split or concealed ducted mini split is a great option for new construction projects. These medium or low static air handlers can be connected to ductwork and hidden in the ceiling or attic space. For luxury homes where the floor to the ceiling height is very important, these systems can be the best space savers while providing zone controlled. With these systems, you can create multiple heating and cooling zones that are independent from each other.
With both ducted mini split options, you can connect the ductwork to either regular grilles or more premium linear or hidden linear grille options. With these units you will have the benefits of high efficiency inverter technology, long life time, and visually appealing finishes on the grilles.
When should you use this option? This option is ideal for customers that want the benefits of inverter variable refrigerant technology (Mitsubishi, Daikin, Fujitsu, etc.) but do not want to have a high wall mini split on their wall nor a ceiling cassette. These systems can lead to the best architectural finish and give the best overall aesthetic.